Hey. I thought I'd let you know about this crazy thing I do. I guess it's not really crazy, but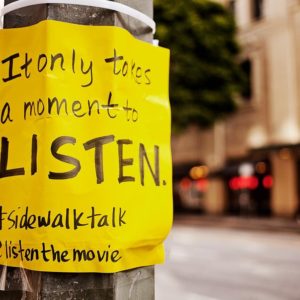 the fact that I do it is, since I hate being on stage. It's not really a stage. It's a sidewalk. Sidewalk Talk is a really cool community listening project that's all about social good, belonging, evolution, consciousness, connection and well-being. I'm actually the Portland Sidewalk Talk City Leader, so I coordinate all the volunteers who join us and set up events where we actually listen to strangers on the city streets.
Why on Earth Would I sit on the Sidewalk and Listen to Strangers?

You may wonder why in the world I would want to sit on the street and listen to strangers. I'll tell you. I do it because I am called to the work of connecting with people. I know that sometimes the tiniest connection, or even the idea of connection, is enough to settle a person's nervous system even just that much. It makes a difference. When we are truly listened to, our deepest need to be seen and heard is met. When we are welcomed to sit and share with strangers, we feel a sense of belonging, which is too often sorely lacking in our communities. I do it because it's a radical act for social change. People actually do sit down to talk and be truly heard, but many more pass us by, heads down, nose buried in their phones. Even for them, I know our presence has an effect. I trust that they may spend the day more mindful of listening. They may go and leave work and be better listeners to the people in their lives who matter, for having seen us. That matters because the idea is to remind our communities of the importance of listening to one another.
See Sidewalk Talk in Action

Check out the video of what we do, narrated by my friend and the project's founder, Traci Ruble. Join me! Let me know if you're interested! We'll be out there for the World Day of Listening on Oct. 21.